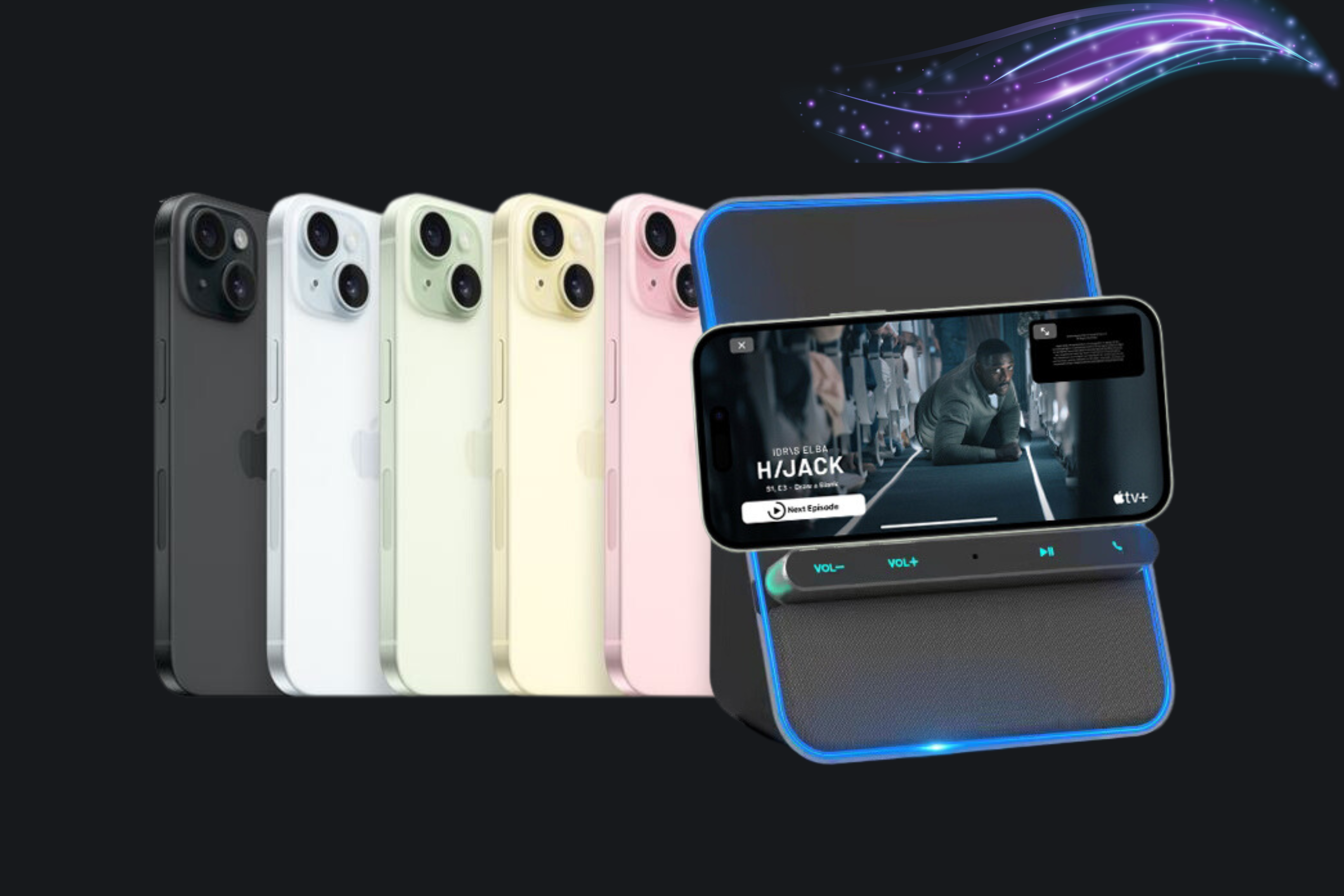 iPhone 15: Best Sound Hype, Everything You Need to Know
9/19/2023
By: Robert Warren
September 19, 2023 - With yesterday`s Apple release of the new game-changing iOS 17 update across their systems worldwide iPhone 15 came jam packed full of new features. Among those are the new A16 Bionic/A17 Pro chips, 24/48 MP cameras, USB-C charging, and all-day battery life. With new front running iOS 17 and new hardware, iPhone 15 is a such powerful monster, and you can see why everyone is impressed.
Overlooked Accessories
In a crowded market, the competition for wireless accessory is fierce. Among them, Anker and Belkin have a 3-in-1 Cube with Magsafe. Nice and compact it comes with a hefty price with limited charging feature only. You cannot get a good angle when the phone is lying flat at surface level with the tabletop. You could watch but you will definitely get some back pain.
While many existing accessories only have few features, Azpen launched a full solution hub for iPhone 15. Dockall D5 packs a 5-in-1 combined docking, charging, listening, speaking features and more all into one hub. Based off their D108, which won CES® 2018 Innovation Awards Honoree, this product has an innovative design, blue Batman like light, and a Type-C port designed for iPhone 15 lovers.
iPhone 15 + Dockall D5 = The Perfect Match
We`ve all seen dating television shows at some point and know how difficult it can be to find the perfect match. Just watch Love Is Blind, Too Hot to Handle, The Circle, or Love Island and you will begin to understand the complications. Love triangles across the board it can be a true hardship. Luckily skipping ahead, you can see iPhone 15 plus the Dockall D5 will give you the perfect match. Designed with innovation and user convenience in mind, the Dockall D5 takes the iPhone 15 experience to a whole new level. Let's dig into the features to see why. 
USB-C and Qi: Two Charging Options
iPhone 15 has both USB-C and Qi wireless charging. With the new charger now having quicker speeds, and boosted transfer times you can easily get hyped up while being able to use the same cord for iPhone with your Mac! Now let's dig into a nice wireless charger, the Dockall D5 which has a standout feature, it`s wireless charging capability. 
Dockall D5 is a charging hub engineered to charge three devices at the same time through Qi wireless charging, USB-C and USB A ports, which ensures you spend less time plugging in your iPhone 15 and more time enjoying your device. The Dockall D5 perfectly matches both wireless and USB-C charging options for iPhone 15. No more fussing with tangled cords or searching for an outlet; the Dockall D5 offers a hassle-free solution. 
Sound Quality
Apple has made iPhone 15 with a heck of a powerful A17 Pro chip measuring three nanometers for any games and videos.  Although the iPhone 15 has a great built-in speaker the sound doesn`t quite pack the punch the Dockall D5 does as it releases every audio detail crystal clear. When you`re watching the highest resolution movies or playing some heavy graphic games, you want a better audio dock to accompany it. Thats where the D5 comes in. 
Enhance your sound quality to the next level. The Dockall D5 has dual 8 watts Bluetooth speakers with the same speaker cells as other top name brands. These speakers provide Cinemax quality sound for iPhone 15. You can easily connect between your iPhone and Dockall through Bluetooth 5.2.
Hands-Free Calling  
iPhone 15 has improved audio quality on phone calls, including those on Facetime or third-party apps. The D5 features a built-in Mic for Hands-Free calling which makes it a great device for conference and Zoom calls. With the front panel buttons, it's just that much easier to answer urgent calls too. Simple touch and answer. With great sound quality through two 8-watt HD speakers, you won't have to ask your friend to repeat themselves several times.
Play your games with ease as you can easily set this charger next to your bedside, engaging with your media. Hear the intensive beats to gruesome games or the peaceful meditation sounds of your favorite videos. The superior sound quality is perfect for conference call in office or family call in home.
Upright Dock
When a thousand-dollar iPhone 15 sit on a cheaper stand from Amazon, it is not a good match. It`s like getting a luxury Benz and putting on discount tires. There are not many solid docking stations available in the market. That is where the Dockall D5 comes in. Considering the ergonomics of device usage, it`s upright view angle works perfect for maximum optimal viewing, comfort and visibility.
Dockall D5 (the 5th generation in the series) provides a stable and durable docking station with an upright view angle for watching movies, playing games at eye level. With an easy front touch panel for buttons to call and adjust volume it is luxury made simple. When you look at iPhone 15 on this solid and stylish docking station, it feels like you have found the perfect match for your iPhone in the kitchen, living room, bedroom or in the office. Finally, a luxury dock for your powerful iPhone. 
Conclusion 
After Steve Jobs, consumers complain Apple lacks innovation though they have excellent hardware and an impressive iOS ecosystem. Small companies are working quietly developing innovative hubs to pair with the iPhone line but there is so many competitors to choose from. Finding the right wireless charger, stand and audio dock to match such a powerhouse of a phone isn`t easy. After much research, you will soon find the innovative Azpen Dockall D5 5-in-1 Sound Hub is made for the iPhone 15. Complement the capabilities of the iPhone 15 seamlessly through the Dockall D5 Don`t miss out. You can purchase this top-of-the-line charger directly by clicking here or going to Amazon to make the purchase.   
Recent Post



Archive
September 2023
March 2021
February 2021
January 2021
December 2020